Latest News
There are currently 3 blog entries related to this category.
Tuesday, September 2nd, 2014 at 5:42pm. 168 Views, 0 Comments.
INTERESTED IN GETTING YOUR REAL ESTATE LICENSE?
ALREADY LICENSED AND WANT TO TAKE YOUR CAREER TO THE NEXT LEVEL? 
Join us for a casual meet & greet reception in our Hoboken office on Wednesday, 9/24 from 6 to 9pm.  This is a great opportunity to meet our team, learn about our company culture, have your questions answered, and see all that we have to offer here at PRIME. 
RSVP by 9/15 to Janis Borroto- janis@primereg.com or 201.981.1916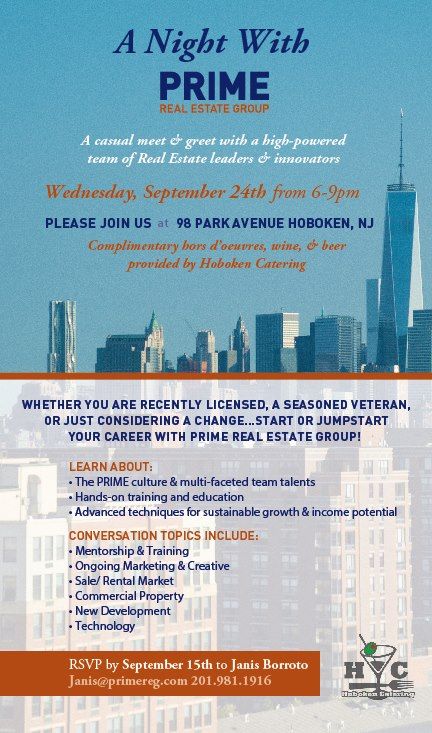 Monday, November 26th, 2012 at 9:53am. 2106 Views, 0 Comments.
November 26th, 2012, Hoboken, NJ - Shopping for a new home is much different than preparing to sell the one you currently own. If you're thinking of selling, contemplating a move to a New Jersey suburb, or are being transferred for work, let THE PRIME MOVE help you 'move on' with the most from your investment.

THE PRIME MOVE is a new online resource for Hoboken homeowners looking to sell or rent their current home. Founded by PRIME Real Estate Group,THEPRIMEMOVE.com highlights expert advice about unique challenges such as how to show off the most space to potential buyers or ideas to choose the right suburb for a growing family.
"This site was developed to answer commonly asked questions from home owners," said PRIME's co-founder Jesse…
Thursday, March 1st, 2012 at 3:42pm. 2609 Views, 0 Comments.
March 1, 2012, Hoboken, NJ – Two of the most notable and well-respected Hoboken real estate firms, BrianDavid, Realtors® and Halliburton Homes have announced today that they have embarked on a joint venture to become PRIME Real Estate Group.
With a new location at 251 First Street, PRIME Real Estate Group is welcoming a team of 55 agents, along with an expanded management and support staff.
"Our commitment to creating more opportunities for our clients and Sales Partners was the driving force of this merger," explained Brian Muench, PRIME Real Estate Group's Co-Chief Executive Officer and Broker of Record. "Our company has doubled in size as a result of this merger, and we are now able to serve the public even better than we had…